How to properly track the source of your leads in ActiveCampaign
Learn the best way to track the source of your leads in ActiveCampaign, so you can see what marketing campaigns are actually driving leads & customers.
Are you able to see where each of your leads comes from in ActiveCampaign?
If the answer is no, you're not alone in facing this challenge.
While tools like Google Analytics provide insights into the channels your website visitors have come from, that's not enough.
In order to truly understand what's working, you need to be able to track how many leads & customers you are getting from each of your marketing initiatives (Google Ads, Facebook Ads, SEO, etc).
Luckily, a solution exists.
In this article, we'll introduce you to Attributer, a tool that enables you to track the source of each lead, deal, and customer within ActiveCampaign.
4 steps for properly tracking the source of leads in ActiveCampaign
Attributer makes it easy to see the source of every lead & deal in ActiveCampaign. Here's how to do it in 4 simple steps:
1. Install Attributer and add hidden fields
Upon signing up for Attributer, you'll receive a snippet of code you need to add to your website.
Adding this code will depend on the website builder you're using, but typically, you can either add it directly to your site (usually via the Settings section of your website builder) or use tools like Google Tag Manager to add it in.
Once the code is successfully installed, the next step involves incorporating a series of hidden fields into your lead capture forms, such as the 'Contact Us' or 'Request a Quote' form on your site.
Here are the specific hidden fields you should include:
Channel
Channel Drilldown 1
Channel Drilldown 2
Channel Drilldown 3
Channel Drilldown 4
Fortunately, most form-building tools offer a user-friendly process for adding hidden fields, and step-by-step instructions for most form-builders can be seen here.
2. Attributer writes lead source data into the hidden fields
When soemone lands on your site, Attributer analyses where they came from by looking at referral data, UTM parameters, etc (the same things tools like Google Analytics look at).
Based on this, Attributer then categorises the visitor into a series of channels (such as Organic Search, Paid Search, Paid Social, and more) and stores this data in a cookie.
When those visitors fill out a form on your website (like your 'Contact Us' form or your 'Request a Quote' form) Attributer automatically fills in the hidden fields with the lead source data it previously gathered.
3. Lead source data is sent to ActiveCampaign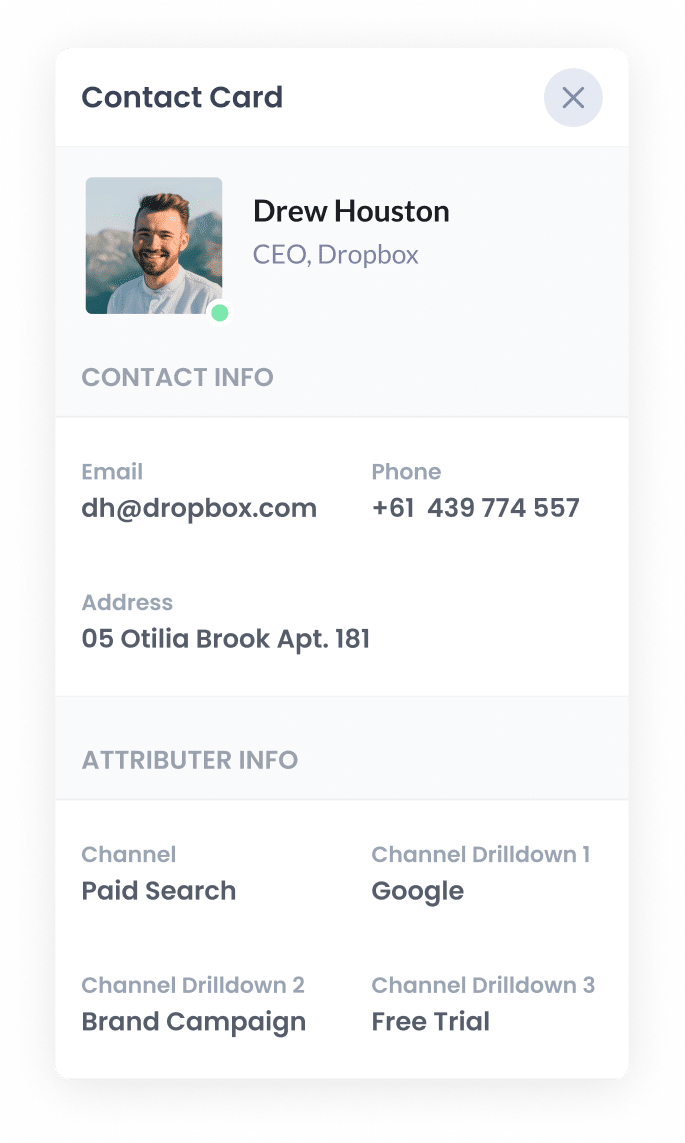 Once a visitor submits a form on your website, the lead source data that Attributer inserted into the hidden fields is captured by your form tool and sent to ActiveCampaign.
Attributer is designed to work with all the major form builders out there. This includes ActiveCampaign's native form builder as well as 3rd-party tools like Gravity Forms, Contact Form 7, Wix forms, Webflow forms, Typeform and more.
4. Run reports to see where your leads & customers are coming from
Once the lead source data is in ActiveCampaign, you can then use it to build reports that show which of your marketing initiatives are actually working.
You should be able to run reports that answer questions like 'How many leads did I get from my Google Ads?' or 'How many customers did I get from my Facebook Ads?' 'How much revenue have I generated from my SEO efforts?' and more.
What data gets sent to ActiveCampaign?
With Attributer, the following lead source data gets passed to ActiveCampaign:
1. Marketing Channel Data
Attributer will pass through high-level Channel data (like the fact a lead came from Paid Search, Paid Social, Organic Search, etc).
And for some channels, it can provide further information like the campaign name, search engine, keyword, etc.
For example, if I was a marketer at ActiveCampaign and someone clicks on one of my Google Ads and fills out a form for a demo, Attributer would write information like:
Channel: Paid Search
Channel Drilldown 1: Google
Channel Drilldown 2: Brand Campaign
Channel Drilldown 3: Free Trial ad
Similarly, if the lead arrives organically through a Google search, Attributer would capture:
Channel: Organic Search
Channel Drilldown 1: Google
Channel Drilldown 2: www.google.com (or the specific Google domain they came from)
Channel Drilldown 3: ActiveCampaign (or the keyword they used to find your site, if available)
As well as information on which channel the lead came from, Attributer also sends through the lead's initial landing page (I.e. activecampaign.com/blog/best-crm-software) as well the landing page group (I.e. /blog).
This allows you to run reports to see how many leads & customers you got from entire sections of your website (I.e. your blog) as well as drill down into how many leads you got from each individual page (I.e. each individual blog post).
3 example reports you can run when you properly track the source of your leads in ActiveCampaign
Sending lead source information into ActiveCampaign allows you to run a variety of reports that show what marketing initiatives are working and which one's aren't.
We've been running reports like these for years, so thought we'd share some of the one's we find most insightful:
The above chart gives you a summary of how many leads you are receiving from each channel.
It gives you a high-level overview of where your leads are coming from and where you should be focusing your marketing efforts.
As an example, let's say you run the above report and notice that Organic Search is bringing in the majority of your leads, but you're actually spending most of your marketing budget on Paid Search.
In that case, it might be time to move some of that budget to SEO instead.
2. Deals by Google Ads campaign
If you're running ads on Google, chances are you've got multiple campaigns and want to understand which campaigns are actually working.
That's where the chart above comes in. It presents a breakdown of the Deals generated per month, categorized by the specific Google Ads campaign they came from.
This helps you understand which of your campaigns are actually producing sales deals for your organisation, and which campaigns should probably just be turned off.
3. Customers by Facebook Ads Network
If you're running Facebook ads, chances are they're popping up across the different networks Facebook owns, including Facebook itself, Instagram, Messenger, and WhatsApp.
In that case, the graph above can be really useful. It lays out the number of customers you've generated from your ads on each network.
This information lets you pinpoint which networks are delivering the best results. With these insights, you can adjust your Facebook Ads budget to focus on the networks that are performing best and ultimately generate more new customs at a lower cost.
If you're looking for a way to see the source of each of your leads in ActiveCampaign, then Attributer could well be the answer.
It sends through information on where each of your leads have come from (Paid Search, Paid Social, Organic Search, etc) and enables you to see exactly how many leads & customers you've got from each source.
Best of all, it's free to get started and usually takes less than 10 minutes to set up, so start your 14-day free trial today and try it out!
Start your 14-day free trial of Attributer today!
Aaron Beashel is the founder of Attributer and has over 15 years of experience in marketing & analytics. He is a recognized expert in the subject and has written articles for leading websites such as Hubspot, Zapier, Search Engine Journal, Buffer, Unbounce & more. Learn more about Aaron here.