The best way to capture UTM Parameters in Pardot
Learn the best way to capture UTM parameters (and other lead attribution information) in Pardot so you can track which marketing activities are generating your leads, customers, and revenue.
Are you struggling to understand which marketing campaigns (I.e. Google Ads, Facebook Ads, etc) are actually generating leads & customers for your business?
If so, you're not alone. Tools like Google Analytics make it easy to see how many website visitors you are getting from each of your campaigns, but it seems to be much more difficult to track how many leads, opportunities & customers you got from your various campaigns.
Don't worry though, because there's a solution.
In this article, we'll show you how to use a tool called Attributer to capture UTM parameters (and other lead source data) in Pardot.
4 steps for capturing UTM parameters in Pardot
Attributer makes it easy to capture UTM parameters with each submission of your Pardot forms. Here's how to do it in 4 simple steps:
1. Add UTM parameters to your ads
To begin capturing UTM parameters in Pardot, you first need to add them to your campaigns!
Make sure to add UTM parameters to all your active ads and campaigns. This applies to ads on social media platforms like Facebook, LinkedIn, Instagram, and Twitter as well as ads you might be running on search engines such as Google and Bing.
And if you are doing bespoke campaigns to promote your business (I.e. Banner ads in trade publications, newsletter sponsorships, etc) then make sure to add them there as well.
2. Add hidden fields to your forms
The second step is to add hidden fields to your lead capture forms. As the name suggests, hidden fields are form fields that are technically on the form but not are not visible to your website visitors.
Here are the specific hidden fields you need to add to your forms:
Channel
Channel Drilldown 1
Channel Drilldown 2
Channel Drilldown 3
Landing Page
Landing Page Group
Attributer works with Pardot's own form builder as well as hundreds of other form tools (like Gravity Forms, Webflow Forms, Typeform, etc). Step by step instructions on how to add these hidden fields to the form builder you use can be seen here.
3. Attributer automatically completes the hidden fields with UTM data
Attributer will track when visitors arrive at your website with UTM parameters, save them in a cookie, and write them into the hidden fields when a visitor submits a form.
To illustrate, let's imagine you're a marketer at Salesforce (Pardot's parent company) and you're running some ads to promote Pardot.
A visitor clicks one of your ads, lands on your site and completes a demo request form. Depending on what UTM parameters you put behind your ad, Attributer automatically populates the hidden fields with the following details:
Channel: Paid Search
Channel Drilldown 1: Google
Channel Drilldown 2: Brand Campaign
Channel Drilldown 3: Pardot
Additionally, Attributer also writes the landing page URL and landing page group into the hidden fields. For instance:
Landing Page: www.pardot.com/features/email
Landing Page Group: Features
4. UTM parameters are captured by Pardot Forms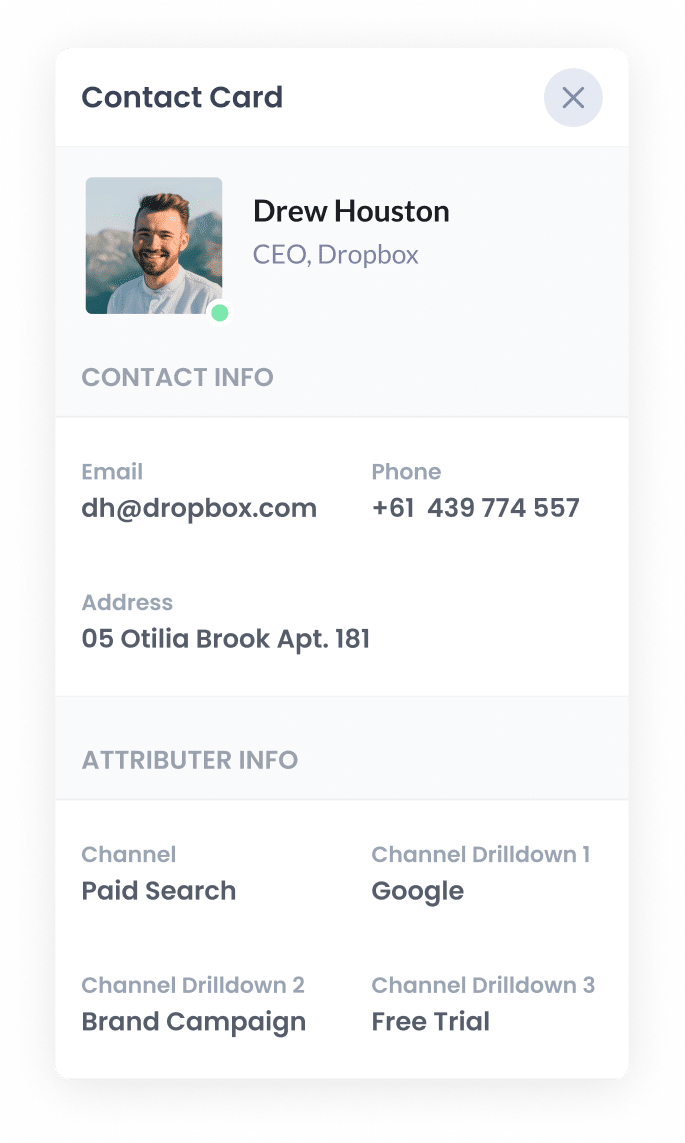 Finally, when the form is submitted the UTM parameters are captured and stored as a field on the contact record in Pardot.
From here, you can do any number of things:
See the data on the Contact record in Pardot
Include the UTM parameters in any new lead notification emails sent by Pardot.
Seamlessly send the UTM parameter data to your CRM (like Salesforce) or other sales and marketing tools and run reports on it there.
Send the lead data (including the UTM parameters) to Google Sheets or Microsoft Excel and use reporting tools like Google Data Studio or Microsoft Power BI to run advanced reports.
From the steps above, you can probably get an idea of how Attributer works to capture UTM parameters in Pardot.
But if you're interested in the more technical details around how it works though, Attributer is essentially a little snippet of code that you place on your website.
When a visitor lands on your site, it looks at a bunch of technical information (including the UTM parameters) to figure out where the visitor came from (I.e. Paid Search, Paid Social, Organic Search, etc). It then stores the information (including the UTM parameters) in a cookie in the visitor's browser so they are not lost as the visitor browses around your site.
Then when that visitor completes a form on your website, Attributer writes the information on where that visitor came from (I.e. Paid Search, Paid Social, Organic Search, etc) into the hidden fields and it is sent to Pardot when the form is submitted.
Attributer was built by a marketing consultant who needed a way to track how many leads & customers his efforts were generating for his clients (as opposed to just measuring how many website visitors, which is all Google Analytics can tell you). He originally built it just to use for himself and his clients but later realized it could help many other businesses as well.
Today, Attributer is used on hundreds of websites and passes through UTM parameters and other data on over 7 million visitors to those websites each month.
Why using Attributer is better than capturing raw UTM parameters
There are a few other ways to capture UTM parameters in Pardot, so why use Attributer?
Here are the 4 main reasons why using Attributer is better:
Attributer provides you with attribution information on ALL your leads, not just those that have come from your paid advertising campaigns with UTM parameters.
This means that regardless of how a user lands on your website (whether through Organic Social, Organic Search, Direct, Referral, etc.), Attributer will gather information on where they came from and pass it through with each form submission.
Ultimately, means you'll be able to understand where all your leads are coming from and make more informed decisions on how to generate more leads.
For instance, you may find that you get more leads from Organic Search than Paid Search and that you should probably invest more into SEO.
2. Remembers the data as visitors browse your site
Other approaches to capturing UTM parameters in Pardot require the user to submit the form on the same page they landed on.
To illustrate why this is a problem, imagine someone clicks one of your Google Ads and goes to a landing page you built for that campaign. They then click the 'Get A Quote' button and are taken to a different page to complete the form.
This would mean that the page they complete a form on is not the same page they originally landed on, so the UTM parameters are lost.
Fortunately, Attributer solves this problem. Because it stores the UTM parameters in a cookie in the user's browser, the visitor can complete a form on any page of your website and it will always pass through the UTM parameters.
We know from experience that UTM parameters can get mucked up from time to time.
As an example, imagine some of your Google Ads campaigns are tagged with UTM_Source=Google, others with UTM_Source=google.com, and others with UTM_Source=adwords.
If you were to just capture these raw UTM parameters and try to run a report to see how many leads you got from your Google Ads,  these would appear as 3 different sources and you would have to manually stitch them together.
With Attributer though, you don't have to deal with this problem because it takes the possibility of capitalization and other inconsistencies into account and can assign leads to the correct channel regardless (Paid Search in this case)
3. Captures landing page data as well
Ever wanted to know how many leads and customers come from your blog? Or those in-depth content pieces you spent hours writing?
On top of capturing UTM parameters and otherchannel data, it also captures the landing page (I.e. pardot.com/blog/best-email-marketing-tools) and the landing page category (I.e. /blog).
This means that you can run reports that show how well certain sections of your website are performing (I.e. your blog) when it comes to generating leads, opportunities, customers & revenue.
And because it captures both the landing page and the landing page group, you can look at how content groups as a whole are performing (I.e. your blog) as well as how individual pages or pieces of content are performing (I.e. individual blog posts).
4 example reports you can run when you capture UTM parameters in Pardot
If you are using Attributer to capture UTM parameters in Pardot, then you're able to run a wide variety of reports to understand which marketing campaigns & channels are working best for your business.
To help you get started, here are some of the reports that we've found most insightful in the past:
Because Attributer captures the source of ALL your leads (not just those that came from your paid ad campaigns), you can run reports like the one above which show the number of leads you get each month broken down by the channel they came from.
Running this report can give you a high-level overview of which channels are generating the most leads for your business, and ultimately where you should focus if you want to grow the amount of leads you generate each month.
For instance, if most of your leads come from Organic Search but you're investing most of your budget in paid ads, it may be time to rethink your budget allocation.
2. Leads by Facebook Ads Network
If you're doing Facebook Ads to help grow your business, then it's likely your ads are appearing on the various social media networks Facebook/meta owns (i.e., Facebook, Instagram, Messenger, etc.),
If so, it's worth running the report above to see how many leads you are getting from each network.
Utlimately, running this report can help you optimise your Facebook Ad spend. If you see that you are getting a lot of leads from one network but not another, you modify your targeting settings to direct more budget to the higher performing network and hopefully get more leads at a lower cost per lead.
3. Customers by Google Ads campaign
Are you running multiple campaigns on Google Ads?? If so, the above report can help. It shows how many customers you've gotten each month broken down by the Google Ads campaign they came from.
This allows you to optimize your Google Ads spend by directing your budget (and maybe even your A/B testing & other optimization efforts) towards the campaigns that are actually producing paying customers.
By including the keyword in the UTM parameters of your Google Ads (which can be easily achieved using tracking templates), you can capture the specific keyword used by your leads to find your business.
This not only helps you determine which keywords to bid higher on in Google Ads, but can also help you understand the keywords you should be going after in your SEO efforts as well as the language to use in your website copy & messaging.
If you need to capture UTM parameters in Pardot, then Attributer is a great solution.
On top of that, you'll also get attribution information on leads that come through organic channels (I.e. Organic Search, Organic Social, etc) as well as information on what content attracted them to your site (I.e. your blog).
Want to give it a try? We offer a 14-day free trial, so get started using Attributer on your website today.
Start your 14-day free trial of Attributer today!
Aaron Beashel is the founder of Attributer and has over 15 years of experience in marketing & analytics. He is a recognized expert in the subject and has written articles for leading websites such as Hubspot, Zapier, Search Engine Journal, Buffer, Unbounce & more. Learn more about Aaron here.