The easiest way to get UTM Parameters into Bitrix24
Learn how to capture UTM parameters in Bitrix24 so you can see what channels & campaigns are driving your leads, customers & revenue
If you are looking to grow your business, you need to know exactly what marketing channels, content & campaigns are generating leads & customers.
The reason you need this information is that it provides actionable insights that can help you grow faster. For example, if you knew that your Facebook Ads are bringing in customers at a positive ROI, then you can put more resources into those initiatives.
And the best way to track what marketing camapigns are working is to track the source of every lead & opportunity in your CRM.
As you read through this guide, you'll learn how to capture UTM parameters in Bitrix24 so you can run reports and see which of your marketing campaigns are producing leads, customers & revenue.
4 steps for capturing UTM parameters in Bitrix24
Using Attributer to capture UTM parameters in Bitrix24 is easy. Here's how to do it in 4 easy steps:
1. Add UTM variables to your ads
The first step towards tracking UTM parameters in Boitrix24 is adding them to your campaigns. By doing this, Attributer can know exactly how visitors to your website are getting there.
Make sure to add UTM parameters to all the ads or campaigns you run. This will include social media platforms such as LinkedIn, Facebook, and Twitter or search engines like Google, Bing and Yahoo.
2. Add hidden fields to your forms
Next, you're going to want to add hidden fields into your lead capture forms.
These fields are entirely invisible to end-users, but they will still exist on the form and allow tools like Attributer to write information into them without your website visitors knowing.
Regardless of whether you are using Bitrix24's built-in form builder or a 3rd party form building tool like Gravity Forms or Jotform, it's as easy as dragging and dropping in a 'Hidden field' field type.
Here are the hidden fields you need to add to your forms:
Channel
Channel Drilldown 1
Channel Drilldown 2
Channel Drilldown 3
Landing Page
Landing Page Group
3. Attributer automatically completes the hidden fields with UTM data
Now that you have added hidden fields to your website forms, Attributer will automatically complete the hidden fields with UTM parameters and these parameters will be passed into Bitrix24 alongside the details of each website visitor who completes your form.
Let's take a look at a quick example to demonstrate.
Imagine you work at the file storage company Dropbox. A user searches for "ways to share large files" and the search engine displays a Dropbox ad in the paid results.
The user clicks the Dropbox ad and fills out a form on the landing page to request a demo.
When the user is filling out the form, Attributer auto-completes the hidden fields with UTM parameters that might look something like this (depending on what UTM parameters you use behind the ad):
Channel = Paid Search
Channel Drilldown 1 = Google
Channel Drilldown 2 = Share Files Campaign
Channel Drilldown 3 = Demo Request Ad
In addition to the channel information, Attributer will also include the landing page and subdirectory, so you know precisely how that lead arrived on your site.
Continuing our Dropbox example, this might look something like this:
Landing Page = www.dropbox.com/features/share
Landing Page Group = Features
4. UTM parameters are passed into Bitrix24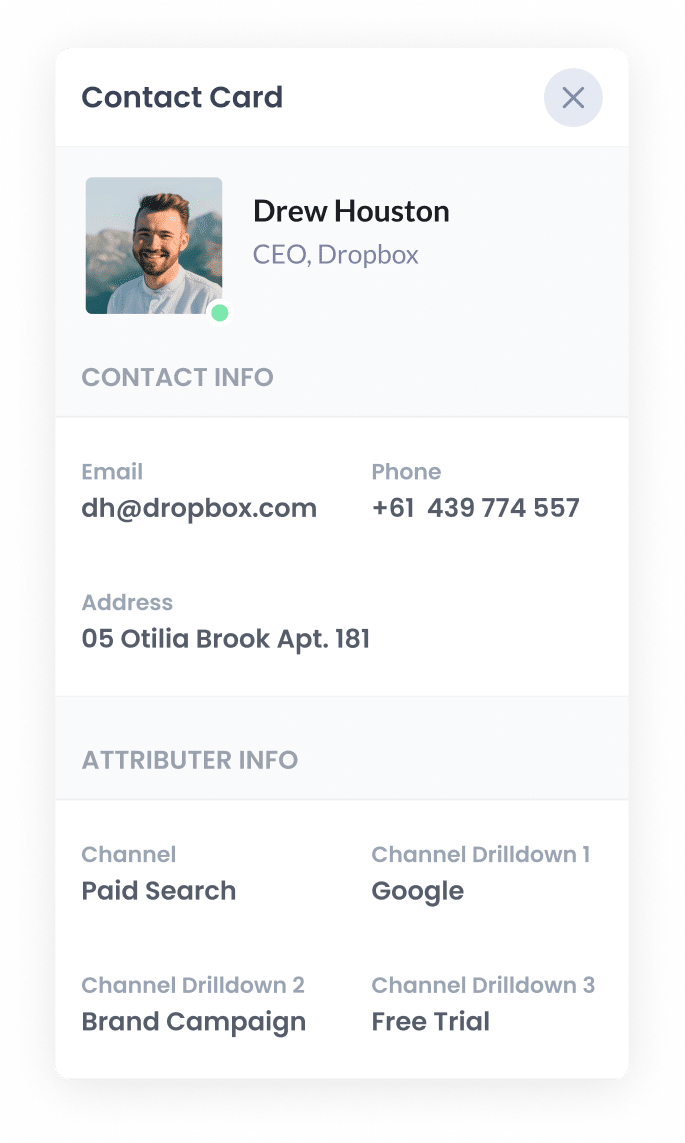 When the user submits a form, Bitrix24 captures all the UTM parameters, plus the user's information (email, name, mobile number, etc.).
And once the data is in Bitrix24, you can use it to run reports (either in Bitrix24 or in 3rd party analytics tools) that show you which of your marketing campaigns and channels are generating your leads, customers & revenue.
Attributer is a simple tool that enables you to track UTM parameters inside Bitrix24. Let's take a quick look at how it works.
To get started, you place the Attributer code on your website it scans incoming website visitors for technical data like UTM parameters, HTTP referrer information, device, etc.
Based on that data, Attributer then categorizes each visitor into a set of "channels" (Paid Search, Organic Search, and Paid Social are good examples) and stores that data as a cookie in the user's browser.
When a user fills out form on your website, Attributer completes the hidden fields with the saved cookie data. When the form is submitted, the UTM parameters and other lead source information are sent to Bitrix24 alongside the information the lead entered into the form (like their name, email, company, phone number, etc).
The once inside Bitrix24, you can see exactly where all your leads & customers are coming from.
Attributer was built by a B2B marketing consultant who needed a tool to measure which channels converted visitors into leads and customers accurately.
Today, Attributer is used on hundreds of websites and provides lead source data for over 2 million visitors to those websites each month.
Why using Attributer is better than capturing raw UTM parameters
What makes Attributer different from the other tools on the market that just capture raw UTM parameters?
Here are four good reasons to use Attributer:
Attributer doesn't just look for traffic with UTM parameters; instead, it monitors and captures data for ALL users on your website.
So unlike other tools that only work when UTM parameters are present, Attributer will capture lead source information for people who come from organic channels (i.e., Organic Social, Organic Search, Direct, Referral, etc.) and send that through to Bitrix24 as well.
This means every lead in your CRM will have relevant tracking data, not just those who followed your UTM links. And when it comes time for reporting, your data is more comprehensive and accurate.
2. Works across pages & visits
For most other UTM capture software on the market, the UTM parameters have to be present on the page where the visitor completes the form in order for the marketing data to be successfully passed through to Bitrix24.
But what if the page they complete the form on is different to the landing page of your ad? If you are using another tool then the UTM parameters would be lost.
Attributer does things a bit differently. We store the UTM parameters in a cookie in the user's browser, meaning the original UTM parameters are never lost even when the user completes a form on a different page to where they landed.
Another great benefit of Attributer is it collects and CLEANS your UTM parameters. Why is this important?
Well, let's imagine some of your Facebook campaigns are tagged with UTM_Source=Facebook.com (capital F), others with UTM_Source=facebook (lowercase, no domain), and others with UTM_Source=fb.
If you pass this data into Bitrix24 and try to run reports, these will appear as three different sources.
But Attributer is designed to recognize capitalization and other inconsistencies and would attribute all these leads to Paid Social regardless of the inconsistencies.
4. Captures landing page data as well
You work so hard at creating quality content on your blog, so wouldn't it be great to know how it's performing? With Attributer, you'll be able to.
Attributer not only captures UTM parameters and other channel data but also captures info on the landing page (I.e. dropbox.com/blog/collaborate-word-docs) & the landing page category (I.e. Blog).
This lets you see how many leads & customers are being generated by your blog and whether you should continue your blogging and content creation efforts.
Hopefully, we have proved that Attributer is a great option for capturing UTM parameters in Bitrix24.
Not only does it capture and pass UTM parameters into Bitrix24, but it also captures other sources of traffic and cleans the data so that you can easily run reports that show where your leads & customers are coming from.
Best of all, you can see if it works for you with a 14-day FREE trial today. Simply click here to get started.
Start your 14-day free trial of Attributer today!
Aaron Beashel is the founder of Attributer and has over 15 years of experience in marketing & analytics. He is a recognized expert in the subject and has written articles for leading websites such as Hubspot, Zapier, Search Engine Journal, Buffer, Unbounce & more. Learn more about Aaron here.