The easiest way to capture UTM parameters in Wix Forms
Learn how to capture UTM parameters in your Wix forms so you can see them in your Wix dashboard, include them in email notifications, send them to your CRM and more.
If you want to grow your business, it is essential to know what marketing campaigns and channels generate the most leads and the highest ROI.
This will enable you to focus your valuable time and resources on the channels that generate the most leads and customers for your business and forget the rest.
In this post, we'll show you how to capture UTM parameters in Wix Forms so that you can send them to your CRM (and other sales & marketing tools) where you can run reports that show you exactly how many leads & customers you are getting from each of your campaigns.
Put simply, Attributer is a lead tracking tool that shows you where your leads and customers are coming from.
When you sign up for a 14-day free trial, you'll get given a snippet of code to add to your website.
When a visitor land son your website, it will look at the UTM parameters in the URL and use them to determine where the visitor came from (I.e. Paid Search, Paid Social, Display, etc). It then stores all of this information in the visitor's browser as a cookie so that it doesn't get lost as the visitor browses around your site.
Then when a user completes one of your Wix Forms, Attributer writes the UTM parameters and other lead tracking data into hidden fields you add to your forms.
And when the visitor submits the form, all the tracking data and any additional data the user entered, such as their name, email, company, etc is captured by Wix Forms.
Finally, you can see this data in within your Wix Dashboard as well as including it in email notifications, forwarding it to your CRM, etc.
4 steps for capturing UTM parameters in Wix forms
Using Attributer to capture UTM parameters in Wix forms is easy. Here's how to do it in 4 easy steps:
1. Add UTM parameters to your ads
The first step is to make sure you have UTM parameters behind all your ads. If some of your ads are missing UTM parameters, then anyone that clicks on those ads aren't going to have them when they arrive at your site and Attributer won't be able to pass them through in your Wix Forms.
Be sure to include UTM parameters for all paid ads (Facebook, Twitter, Google, Bing, Pinterest, etc.). Also, don't forget your social media bios, guest blogs, and anywhere else you may have inbound links.
Be sure to get in the habit of using UTM links because these will prove to be valuable for all kinds of analytics tools, not just Attributer.
2. Add hidden fields to your forms
Next, you have to add hidden fields to your Wix Forms. These hidden fields won't be visible to your users, but Attributer will use them to pass UTM parameters through with each form submission.
The 6x hidden fields you need to add to your forms are:
Channel
Channel Drilldown 1
Channel Drilldown 2
Channel Drilldown 3
Landing Page
Landing Page Group
Adding hidden fields to your forms in Wix is easy. Simply add 6x 'Short Answer Fields' to the bottom of your form and then select the 'Hidden' option from the Dev menu. You can see full step-by-step instructions (with screenshots) here.
3. Attributer automatically completes the hidden fields with UTM data
Now that you have everything prepped and ready, Attributer can populate the hidden fields with UTM parameters in your Wix Forms.
To demonstrate how Attributer works, let's imagine you're a marketer at Dropbox.
A potential customer uses a search engine to look up "ways to share massive files" and the paid results show an advertisement from Dropbox.
This particular person decides to click on your ad, lands on a Dropbox sales page, and fills out a form to request a product demo.
Depending on what UTM parameters you put behind the ad, Attributer would write the following information into the hidden fields:
Channel = Paid Search
Channel Drilldown 1 = Google
Channel Drilldown 2 = Brand Campaign
Channel Drilldown 3 = Dropbox
Additionally, Attributer will include the specific landing page and subdirectory the user landed on:
Landing Page = www.dropbox.com/features/share
Landing Page Group = Features
4. UTM parameters are captured by Wix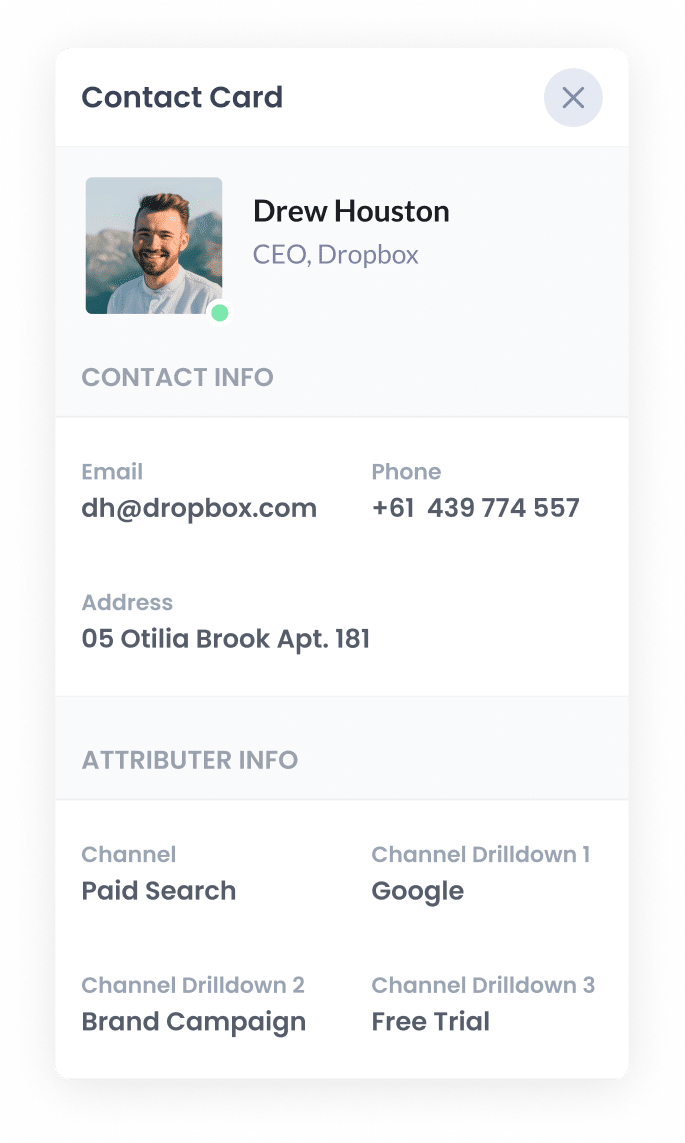 Finally, when the visitor submits a form the UTM parameters are captured by Wix Forms alongside the information the visitor entered into the form (I.e. Their name, email, phone, etc)
Once the UTM's have been captured by Wix Forms, you can:
See them in your Wix Dashboard
Include them in the email notifications Wix sends when a form is submitted
Send them to your CRM software (including Salesforce, Hubspot, Zoho CRM, Pipedrive & more.
Send them into a spreadsheet
And a whole lot more.
Why Attributer is the best tool for capturing UTM parameters in Wix
Attributer is the best tool for capturing UTM parameters in Wix for the following reasons:
1. Captures lead tracking data for all leads
Attributer tracks the source of ALL your leads, not just those that came form your paid ad campaigns with UTM parameters.
So if someone arrives at your site from Organic Social, Organic Search, Direct, Referral, etc. Attributer would still capture information about where they came from and pass that through with each form submission.
This ultimately means you can see where all your leads have come from and make more strategic decisions about how to spend your marketing budget (I.e. Maybe you get more leads from Organic Search than Paid Search, and you'd be better off investing more in SEO)
2. Remembers the UTM parameters
Most other scripts or methods of capturing UTM parameters require the UTM parameter to actually be present on the page where the form is completed.
This can be a problem if the page they complete your form on is not the same page they landed on from your ad.
A common example of this is if you're using Google Ads and sending traffic to a landing page you created for that campaign. Once a visitor is convinced your product/service is amazing, they click the 'Request A Demo' button and are taken to another page to complete the demo request. This would mean that the page they complete the form on is not the same page they originally landed on, so the UTM parameters are lost.
Attributer solves this problem though. It stores the UTM parameters in a cookie in the user's browser, meaning that regardless of what page the visitor complete's the form on, Attributer still knows the original UTM parameters that visitor arrived with.
This ultimately means you have more accurate data on the number of leads & customers you are getting form your paid ad campaigns.
One of the problems that some have found with capturing raw UTM parameters is that data can be messy and inconsistent.
Take a look at this example. Imagine some of your Facebook campaigns are tagged with UTM_Source=Facebook.com (capital F), others with UTM_Source=facebook (lowercase, no domain), and others with UTM_Source=fb.
If you were just capturing raw UTM parameters and trying to run reports on them, these would look like 3 different lead sources and you'd have to manually stitch the data together to truly understand how many leads you got from your Facebook Ads.
Attributer helps with this as well. It was designed to identify capitalization and other inconsistencies in UTM parameter usage and then categorize the leads to Paid Social regardless.
4. Captures landing page data as well
Have you ever wanted to know how your content marketing efforts are performing? I.e. How many leads are coming from your blog posts?
Attributer can help. Not only does it capture UTM parameters, but it also captures the visitor's landing page and landing page group as well.
For instance, if a user lands on attributer.io/blog/capture-utm-parameters then Attributer would capture the blog post URL (attributer.io/blog/capture-utm-parameters) plus the subdirectory (/blog) as a separate parameter.
Then when it comes time to run reports, you can see how many leads and customers you get from your blog as a whole, as well as drill down and see exactly how many leads and customers you are getting from each blog post.
4 example reports you can run when you capture UTM parameters in Wix
If you are using Attributer to capture UTM parameters in Wix, then you should be able to send the data into your CRM or a spreadsheet and runs reports similar to the following:
Because Attributer captures the source of all your lead (not just those form your paid ad campaigns), you can create reports like the one above that show the number of leads generated each month broken down by the channel they came from.
This type of report can help you identify identifying the most effective lead-driving channels and can help you make better decisions about where to spend your marketing budget.
For example, if the majority of your leads stem from Organic Search despite most of your budget being allocated to paid ads, reallocating some of the budget to SEO could be a wise move.
2. Leads by Facebook Ads Network
The report above can help you identify the network that produces the most leads (if you have advertisements running across Facebook's various networks, such as Facebook, Instagram, and Messenger).
This knowledge can be used to refine your ad spend strategy. By modifying your targeting preferences to concentrate on the networks that are generating the best results, you can increase the number of leads while reducing the cost per lead.
3. Customers by Google Ads campaign
The report above illustrates the number of customers acquired each month from your various Google Ads campaigns.
It can help you distinguish between campaigns that produce paying customers and those that merely attract visitors who do not convert.
Utilizing this information, you can improve your Google Ads spend by concentrating your budget and A/B testing efforts on the campaigns that are actually producing paying customers.
By including the keyword in the UTM parameters appended to your Google Ads (which is easy to do using tracking templates), you can gather information about the keywords your leads are searching for to find your website.
This data is useful in multiple ways, such as identifying the keywords that should be prioritized for higher bids in Google Ads and determining the keywords that deserve greater focus in your SEO strategy.
Attributer does more than just capture UTM parameters; it is an essential tool for marketers to learn which channels and campaigns generate the most leads and deliver the highest ROI.
So stop guessing which campaigns generate the best leads and stop wasting time on poor-performing marketing campaigns. Get started with Attributer for FREE today.
Start your 14-day free trial of Attributer today!
Aaron Beashel is the founder of Attributer and has over 15 years of experience in marketing & analytics. He is a recognized expert in the subject and has written articles for leading websites such as Hubspot, Zapier, Search Engine Journal, Buffer, Unbounce & more. Learn more about Aaron here.