How to capture Google Analytics data in Gravity Forms
Learn how you can capture data from Google Analytics, such as Channel and Landing Page, in Gravity Forms so you can track where your leads & customers are coming from.
Tools like Google Analytics are great for understanding how visitors arrive at your website, and if you setup Goals properly it can tell you which channels converted to leads.
But do you know which marketing channels and campaigns are converting to deals, customers and revenue?
By capturing Google Analytics data in Gravity Form and passing it through to your CRM, you can run reports that show you what channels and campaigns are working and which one's aren't, so you can make better decisions about how you spend your marketing dollars
Attributer is a small piece of code that you place on your company's website.
When a visitor lands on your site, Attributer looks at a bunch of technical information about the visitor (same things as Google Analytics looks at) and uses it to determine where the visitor originated from.
Attributer then categorizes the visitor into a standardized set of marketing channels. These are the same channels you see in Google Analytics, such as Organic Search, Paid Social, and Paid Search.
Next, Attributer stores the categorized data as a cookie in the browser used by the visitor. Then when the visitor submits a Gravity Forms form on your site, Attributer passes that Channel & Landing Page information into a series of hidden fields you add to your forms.
From here, you can pass the data into anything that Gravity Forms integrates with, such as your CRM, Email Marketing Tool, Analytics Tools, etc.
4 steps for capturing Google Analytics data in Gravity Forms
Using Attributer to capture Google Analytics data in Gravity Forms is easy. Here's how to do it in 4 easy steps:
1. Add hidden fields to your forms
To get started, you need to add some Hidden Fields to your lead capture forms. These hidden fields are:
Channel
Channel Drilldown 1
Channel Drildown 2
Channel Drilldown 3
Landing Page
Landing Page Group
Gravity Forms makes it easy to add hidden fields to your forms (instructions here). There is a field type called 'Hidden' which you can drag in, or you can drag in another field type (such as single line text) and make it a hidden field by selecting the 'Hidden' tickbox.
2. Attributer automatically completes the hidden fields with Google Analytics data
When a visitor completes a lead form on your site, Attributer automatically populates the hidden fields you added in Step 1 with Google Analytics data.
To illustrate how this works, imagine you're Dropbox and a visitor lands on your website via a brand campaign on Paid Search or PPC. Attributer would complete the hidden fields as follows:
Channel: Paid Search
Channel Drilldown 1: Google
Channel Drilldown 2: Brand Campaign
Channel Drilldown 3: Dropbox
Attributer would also capture the first landing page (i.e. www.dropbox.com/features/productivity) and landing page group (i.e. Features) of the visitor, in addition to Channel data.
3. Google Analytics data is captured by Gravity Forms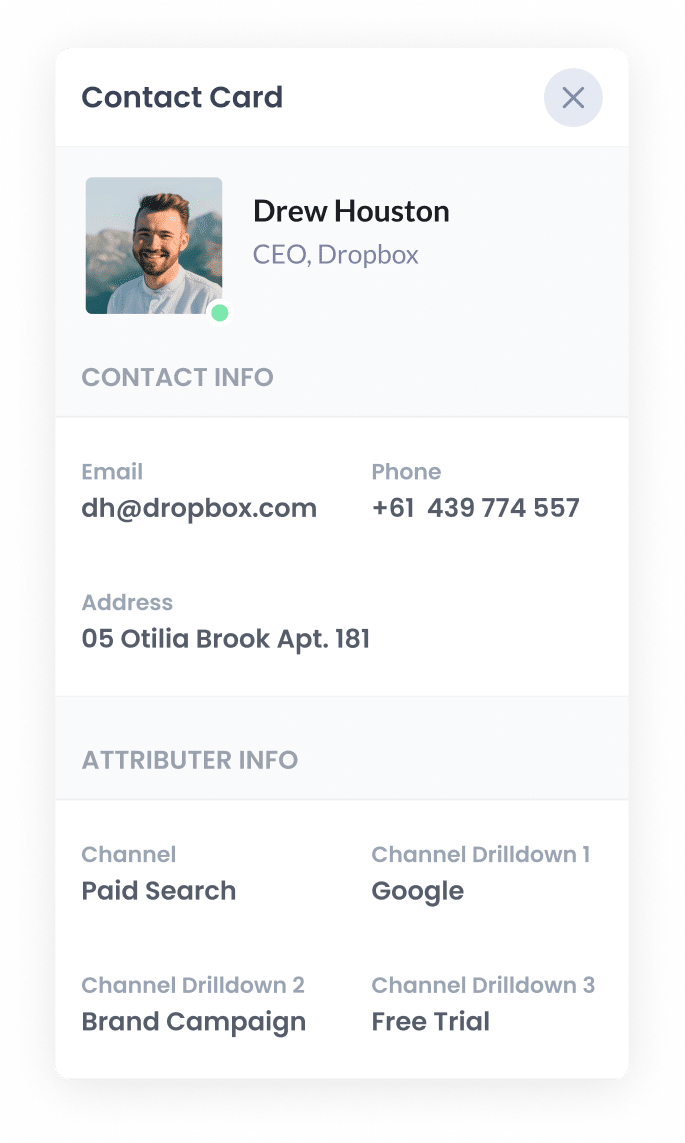 When a visitor submits the lead form the Google Analytics data passed into the hidden fields is captured by Gravity Forms and stored alongside the other information the visitor entered (like their name, email address, phone number, etc).
4. Run reports to see where your leads are coming from
Finally, you can use Gravity Forms native integrations (or 3rd party tools like Zapier) to send the Google Analytics data into your CRM (I.e. Salesforce, Pipedrive, Zoho CRM, etc) or other tools.
With the data provided by Attributer, you would be able to see which of your channels are driving the most leads, the number of Closed Won deals coming from each channel, the conversion rate to Opportunity, and other critical metrics.
What data gets captured in Gravity Forms
At Attributer, we believe there are essentially 2 key elements to attribution:
Channel - How did they get to your website? Usually one of Organic Search, Paid Search, Paid Social, Referral, etc.
Landing Page - What content on your site attracted them there? It could be your Features pages, your blog, your eBooks, etc.
As a result of this, we built Attributor so that it collects all the information you need to answer the above questions.
1. Marketing Channel Data
With Attributer, marketing channel data is captured automatically. You'll be able to see which channels are bringing in leads (Paid Search, Organic Search, Paid Social, etc.) as well as further details on each marketing channel (For Paid Search, for instance, Attributer will also capture Ad Group, Keyword, Campaign, etc.).
Attributer automatically captures the first page the lead sees on your site (I.e. dropbox.com/blog/best-file-storage-tools) as well as the category of the page (I.e. Blog).
This is good for being able to view related content as one entity. For instance, being able to see how many leads your entire blog generated as well as being able to drill down into how many leads & customers each individual blog post generated.
4 example reports you can run when you capture Google Analytics data in Gravity Forms
When you capture Google Analytics data in Gravity Forms and send it to your other sales & marketing tools (like your CRM or a spreadsheet), you can start to build reports that show how your various marketing initiatives are performing.
To help you get started, we've listed below some of our favourite reports to run:
Just like any other business, you're probably getting visitors and leads from all sorts of places like Organic Search, Paid Search, Organic Social, and more.
This report breaks down the number of leads you're getting each month based on the channels they came from. It gives you a big-picture view of which channels are doing the best.
Knowing this can be super helpful in deciding where to put your money. For example, if you're getting most of your leads from Organic Search but spending a lot on Paid Search, it might be time to rethink your strategy.
2. Opportunities by Google Ads campaign
If you're like most businesses, you're probably running a bunch of different campaigns in Google Ads and are keen to know how they're doing.
Well, lucky for you, this chart has can help. It breaks down how many Opportunities were generted each month based on the Google Ads campaign they came from.
This chart helps you figure out which campaigns are actually bringing in high-quality leads that turn into genuine Opportunities for your sales team. It's like a cheat code to help you decide where to invest your resources for maximum results.
3. Customers by Facebook Ads Network
If you're showing ads on Facebook to promote your business, chances are they're appearing all over Facebook's family of social media networks (think Facebook, Instagram, Messenger, and Whatsapp).
If that's the case, the above chart can help you. It breaks down how many customers you got from each network through your ads.
This will give you the inside scoop on which network is performing best for your business, and ultimately enables you to focus your budget where it matters most.
4. Revenue from Organic Search by search engine
If you're putting money into SEO to grow your business, this chart will be useful. It'll give you an understand of how much revenue you're making form these SEO efforts.
Now, here's the fun part: you can break down this report by the search engine that brought in those leads (as shown above). Plus, you can also compare the revenue from SEO with other channels like Paid Search, Organic Social, and whatnot. This way, you'll know just how crucial Organic Search is for your business's growth.
Attributer is the tool to use if you're looking to capture Google Analytics data in Gravity Forms and pass it through to your CRM, Email marketing tool, etc.
Setting it up is a simple process, and as soon as it's up and operational, you can run detailed reports and create dashboards in your sales & marketing tools (like a CRM) that show you everything from how your ad campaigns are performing to how your SEO efforts are going.
What's more, it costs nothing to get started. Claim your free trial today!
Start your 14-day free trial of Attributer today!
Aaron Beashel is the founder of Attributer and has over 15 years of experience in marketing & analytics. He is a recognized expert in the subject and has written articles for leading websites such as Hubspot, Zapier, Search Engine Journal, Buffer, Unbounce & more. Learn more about Aaron here.