How to capture Google Ads data in Duda forms
Learn how to capture Google Ads data with each Duda form submission, so you can track which campaigns, ad groups, etc are generating your leads & customers.
Are you trying to figure out which of your Google Ads campaigns are actually generating leads & customers?
Imagine how great it would be if you could see the exact source of all the leads you receive, right down to the campaign and ad they clicked.
If you could do that, you'd know which campaigns and ads are generating leads, customers and revenue, and you can invest more in those to grow your business.
Fortunately, there's a way to do exactly this.
This article will show you how to use Attributer to capture Google Ads data in Duda forms along with every lead that comes through.
4 simple steps to capture Google Ads data in Duda
Attributer makes it easy to capture Google Ads data in Webflow. Here's how it works:
1. Add UTM variables to your ads
Before you can start to see Google Ads data with each form submission, you must first add UTM parameters to all your campaigns.
If you're unfamiliar with the term UTM parameters, they're simply extra text that gets added at the end of the URL you send to people from your campaigns. They tell analytics tools like Attributer where this visitor has come from (I.e. which campaign, ad group, etc).
So if the page you want to send someone is attributer.io/integrations/duda, then your final URL with UTM parameters may look like this:
attributer.io/integrations/duda?utm_medium=paidsearch&utm_source=google&utm_campaign=brand-campaign
While you can put whatever information in the UTM parameters you want, it is best to follow general best practice for Google Ads, which is something like:
UTM Medium = Paid search
UTM Source = Google
UTM Campaign = The name of your Google Ads campaign
UTM Term = The name of the ad group the ad belongs to
UTM Content = The specific ad
Putting UTM parameters behind your URLs in Google Ads is simple. Plus, there are free tools online that can help you build them.
2. Add hidden fields to your forms
The next thing you need to do is add a number of hidden fields to your lead capture forms (I.e. Your Contact Us form or your Request Quote form)
The hidden fields that you need to add to your forms are:
Channel
Channel Drilldown 1
Channel Drilldown 2
Channel Drilldown 3
Landing Page
Landing Page Group
Duda makes adding hidden fields pretty simple and you can see step-by-step instructions here.
3. Attributer writes Google Ads data into the hidden fields
Now that the hidden fields have been set up, Attributer will start to track where your website visitors have come from.
Then when they complete a form on your website, Attributer writes the Google Ads data (taken from the UTM parameters you added in step 1) into the hidden fields on the form.
As an example, imagine you're a marketer at Dropbox and a person clicks one of the ads from your brand campaign in paid search, Attributer would populate the hidden fields as follows:
Channel = Paid search
Channel Drilldown 1 = Google
Channel Drildown 2 = Brand campaign
Channel Drilldown 3 = Free account ad
On top of this, Attributer would also capture the visitor's first landing page (e.g., dropbox.com/features/cloud-storage) and the first landing page group (e.g., features).
4. Google Ads data is captured in Duda forms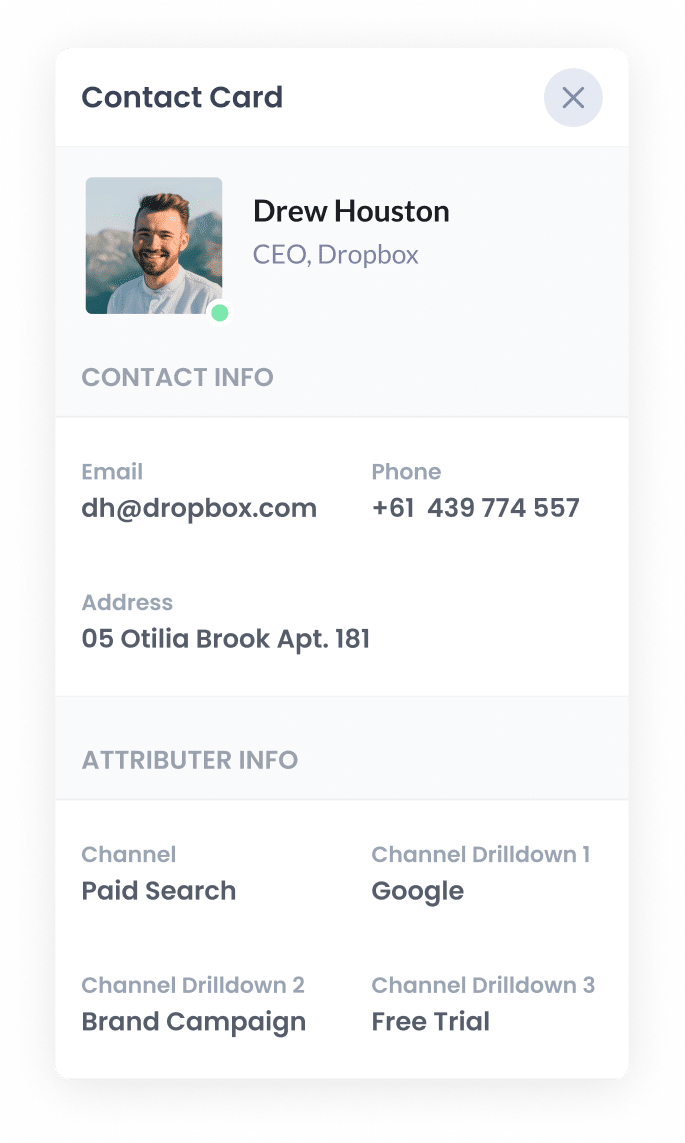 Finally, when a visitor submits the form, the Google Ads data is captured together with the details the lead entered into the firm, like their name, company, phone, email, etc.
From here, you can:
Add it to the new lead notification email Duda sends so you'll be able to see where each lead came from instantly
Send it to your CRM so you can see where each lead has come from
Use it to run reports showing you which Google Ads campaigns are generating you leads, customers & revenue.
Why using Attributer is the best way to capture Google Ads data in Duda
There are other ways to capture Google Ads data in Duda forms, so why use Attributer?
On top of capturing information (campaign, ad group, keyword, etc) on leads that come from your Google Ads, Attributer can also pass through information on leads that come from other channels as well (I.e. Organic Social, Paid Social, Organic Search, etc.)
This means that you can run reports that show you were ALL your leads are coming from, not just the ones that clicked through from one of your Google Ads campaigns.
This can really help you understand which of your marketing initiatives are working and which ones aren't. For instance, you might find that your SEO efforts generate more leads and customers than your Google Ads campaigns. In which case, it might be time to rethink where you're focusing your time and budget.
2. Attributer remembers the data as visitors browse your site
Most other ways of capturing Google Ads data (derived from the UTM parameters) in your forms require the form to be submitted on the same page the visitor initially landed on. This means that if they browse around your site, the data is lost.
For instance, imagine someone clicks one of your Google Ads and is taken to your homepage. They then click the 'Get A Quote' button and are then taken to a different page to complete your quote request form. This means that the page they complete a form on differs from the page they initially landed on. Hence, the UTM parameters are lost.
Attributer solves this problem though. It stores the UTM parameters in a cookie in the user's browser, meaning they will always be passed through no matter what page the user completes a form on.
Most other tools just capture the raw UTM parameters you place behind your ads, and this can often result in messy data that makes it challenging to run reports.
As an example, say some of your Google Ads campaigns are tagged with UTM_Source= Google.com (capital G), others with UTM_Source= google (lowercase, no domain), and others with UTM_Source= adwords.
Seems strange, but this is pretty common if different people or agencies have looked after your ads over time.
If you were to capture these raw UTM parameters in Duda and try to report on how many leads your Google Ads campaigns have generated, it will look like they have come from 3 different sources.
Attributer works differently though. It was built to expect inconsistencies in capitalization and UTM structure and would appoint the leads to the Paid Search channel regardless.
4. Attributer captures landing page data
Ever wondered how many leads and customers are being generated from your blog and the other in-depth content pieces you've done?
Aside from capturing Google Ads data, Attributer also captures the landing page (i.e., attributer.io/blog/capture-utm-parameters) and the landing page category (i.e., /blog).
This allows you to run reports that show how many leads & customers you have gotten from certain sections of your website (I.e. Your blog) as well as which individual content pieces (I.e. blog posts) have generated the most leads & customers.
If you need to track which campaign, ad group, keyword, etc each of your leads have come from, then Attributer is a great solution.
It will capture the UTM parameters behind your Google Ad campaigns, which allows you to create reports that tell you the campaigns, ad groups and even keywords that are working best for your business.
On top of that, Attributer will also provide information on leads that come from other channels so that you can track the source of ALL your leads (not just the ones from Google Ads).
And the best part? It's free to get started. Start your 14-day free trial today and experience what Attributer has to offer.
Start your 14-day free trial of Attributer today!
Aaron Beashel is the founder of Attributer and has over 15 years of experience in marketing & analytics. He is a recognized expert in the subject and has written articles for leading websites such as Hubspot, Zapier, Search Engine Journal, Buffer, Unbounce & more. Learn more about Aaron here.