The easiest way to capture UTM parameters in Leadpages
Learn how to capture UTM parameters in your Leadpages landing pages and send them through to your CRM and other tools
Identifying which marketing channels, content, and campaigns are generating leads and customers at a positive ROI, and then doubling down on those projects, is the key to growing any organization.
But how can you know which marketing activities are working and which aren't if you can't precisely evaluate the number of leads, customers, and income created by them?
Making sure you're tracking the source of every lead and opportunity in your CRM is crucial to your success. You'll be able to rapidly generate reports that illustrate which campaigns, content, and channels are performing well.
In this article, we'll show you how to collect UTM parameters on your Leadpages website and send them to your CRM and other applications so you can obtain the information you need to grow.
4 steps for capturing UTM parameters in Leadpages
Using Attributer to capture UTM parameters in Leadpages is easy. Here's how to do it in 4 easy steps:
1. Add UTM variables to your ads
To begin tracking UTM parameters in your CRM, you must first include them in your advertising campaigns. This enables Attributer to pinpoint the origins of your website visitors and pass them along to your CRM for reporting purposes.
Any advertising or campaigns you're running should include UTM parameters. This could occur on social networking sites such as Facebook, LinkedIn, Instagram, and Twitter, as well as ads on search engines such as Google and Bing. It's also a good idea to employ them for bespoke initiatives, such as ads in trade journals, email campaigns, and so on.
2. Add hidden fields to your forms
In the next phase, you'll add hidden fields to your lead capture forms (I.e. the forms you use to collect information from site visitors). End-users cannot see these fields, but they are still present on the form, allowing tools like Attributer to interact with them without visitors seeing them.
It's simple to add Hidden Fields to your Leadpages forms. Simply add a new text field (or select an existing one) and then in the Properties editor select the 'This is a hidden field' checkbox.
The hidden fields you need to add to your forms include:
Channel
Channel Drilldown 1
Channel Drilldown 2
Channel Drilldown 3
Landing Page
Landing Page Group
3. Attributer automatically completes the hidden fields with UTM data
After you've set everything up, Attributer will collect incoming tracking data, including UTM parameters, and write it into the hidden fields in your forms.
Let's start by looking at how Attributer works using a Dropbox as an example.
When a person searches for "ways to share large files," a Dropbox ad appears in the sponsored results. The user clicks on the ad and requests a demo by filling out a form.
Attributer would add the following tracking information to the form's hidden fields (depending on which UTM parameters Dropbox uses):
Channel = Paid Search
Channel Drilldown 1 = Google
Channel Drilldown 2 = Files Campaign
Channel Drilldown 3 = Large Files Ad
In addition, Attributer will provide information about the landing page, which might look like this:
Landing Page = www.dropbox.com/features/share
Landing Page Group = Features
4. UTM parameters are passed into your CRM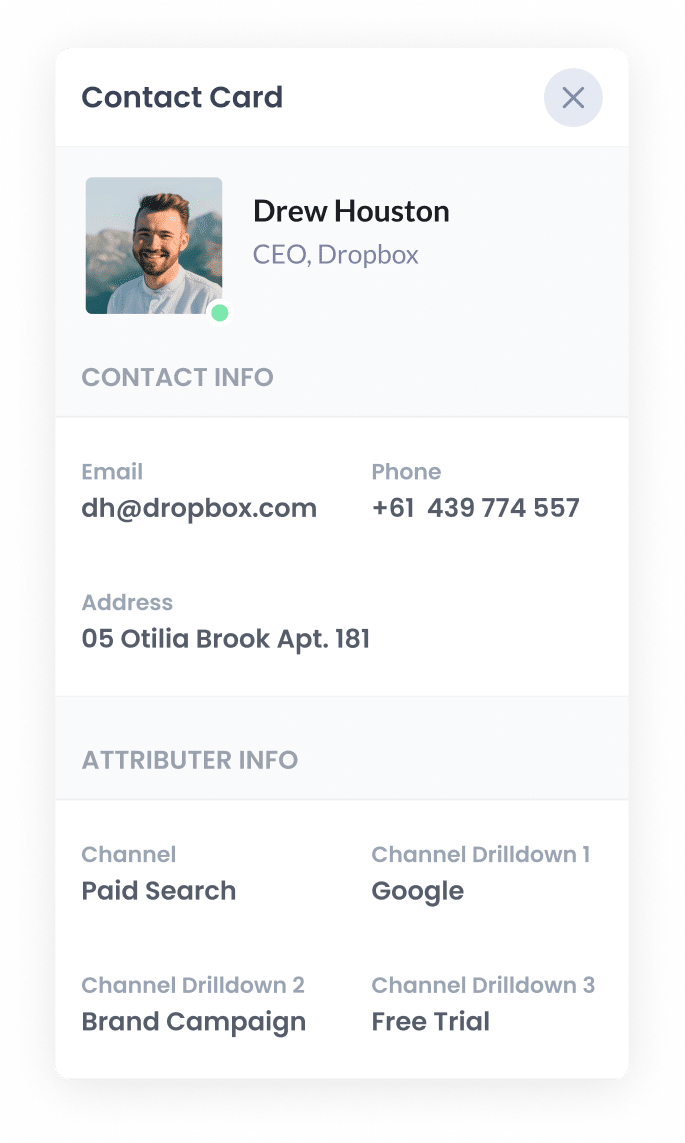 In this final step, the UTM parameters entered into the hidden fields are captured together with the lead's name, email, phone number, and other information when the user submits your form.
You may transmit this data to your CRM (including Salesforce, Hubspot, Pipedrive & more) using Leadpages' native integrations. You can also send information to Google Sheets, Excel, and hundreds of other places using apps like Zapier.
Once the data is in your CRM and other, you may use it to generate reports that show you information like:
How many leads did your Facebook Ads generate?
How many customers did your Google Ads bring you?
How much money has been made as a result of your SEO efforts?
And a lot more.
The above steps demonstrate how marketers can use Attributer to capture UTM parameters on their Leadpages site and transfer them to their CRM and other applications.
But how does Attributer works?
Attributer is essentially a piece of code that you plac eon your Leadpages site. It examines a variety of technical facts about a visitor (UTM parameters, referrer, device, and so on) to discover how they arrived at your site.
Visitors are categorized into a series of Channels such as Paid Search, Organic Search, Paid Social, etc and the data is subsequently saved in a cookie in the visitor's browser.
When a user fills out a form on your Leadpages website containing those six hidden fields, Attributer completes the hidden fields using the data stored in the cookie.
Finally, the UTM parameters and other marketing attribution data, as well as the lead's name, email, and phone number, are sent to your CRM and other systems whenever the user submits the form.
Attribuer was born when a B2B marketing consultant required a tool to figure out which channels were truly converting visits into leads and customers.
"I designed it for a client's website at first, but after a while, I realized it could be valuable for any business."
Why using Attributer is better than capturing raw UTM parameters
There are definitely other tools you can use to capture UTM parameters in your Leadpages site, so why choose Attributer?
Here's why:
Attributer collects the information on the sources of ALL your website traffic and routes it to your CRM and other applications.
This includes not just the paid channels where UTM parameters can be included (such as Paid Search and Paid Social), but also channels where UTM parameters aren't available (Like Organic Social, Organic Search, Direct, Referral, etc.)
What this means is that when you run reports in your CRM to check where your leads and customers originate from, you'll be able to identify the source of all your leads, not just those from paid campaigns.
This provides you a greater understanding of what's working and what isn't, allowing you to build your business more effectively.
The majority of other tools and methods for collecting UTM parameters require that the UTM parameter be present on the page on which the form is filled out.
This is an issue since the page they land on after clicking on your ad may not be the exact webpage they complete your form on.
Consider what happens if someone clicks on any of your Google Ads and visits a landing page you prepared specifically for that campaign. If they then click the 'Get A Quote' button and are directed to a new page where they can fill out your quote request form, then the page on which they fill out a form is not the same as the one on which they first arrived, and the UTM parameters are lost.
Attributer works differently though. It stores the UTM parameters and other attribution data in a cookie so that regardless of what page a form is completed on the data can be passed through to your CRM and other tools.
One of the issues with utilizing other tools to acquire raw UTM information is that you may wind up with jumbled data that makes running accurate reports difficult.
Consider this: some of your Twitter campaigns are tagged with UTM Source=Twitter.com (capital T), while others are tagged with UTM Source=twitter (lowercase, no domain), and yet others are labelled with UTM Source=tw.
When you send raw UTM parameters into your CRM and try to figure out just how many leads generated by your twitter campaigns there'll be three separate sources that you'll have to combine.
You won't have to worry about this with Attributer because it accounts for capitalization and other discrepancies and will assign leads to the correct channel regardless.
4. Captures landing page data as well
Have you ever wondered how many leads and customers your blog generates? Or those lengthy content articles you toiled on for hours?
Attributer captures not just UTM parameters but other attribution data such as the landing page (e.g. attributer.io/blog/capture-utm-parameters) and landing page category (e.g. /blog).
Thus you get to see how effectively various portions of your website (for example, your blog) are performing in terms of creating leads, customers, and revenue.
And because it tracks both the landing page and the landing page group, you can see how content groups as a whole (such as your blog) as well as individual pages or posts perform (I.e. individual blog posts).
As you've seen, Attributer is much more than a tool for collecting UTM parameters. Behind the scenes, Attributer does a lot of heavy lifting to ensure you have better data to evaluate.
It takes all of your incoming traffic data, ensures that it isn't lost when users navigate from page to page, and cleans it up so that reports can be generated quickly.
Are you ready to discover the power of Attributer? To explore if Attributer is appropriate for you, sign up for a 14-day free trial.
Start your 14-day free trial of Attributer today!
Aaron Beashel is the founder of Attributer and has over 15 years of experience in marketing & analytics. He is a recognized expert in the subject and has written articles for leading websites such as Hubspot, Zapier, Search Engine Journal, Buffer, Unbounce & more. Learn more about Aaron here.