The easiest way to capture UTM Parameters in Elementor Forms
Know what marketing channels & camapigns are driving leads, customers & revenue by capturing UTM parameters in your Elementor forms and passing them through to your CRM and other tools.
Elementor is one of the best drag and drop page builders available for WordPress, and its form building tool is quite versatile given that it's not a dedicated form builder.
But it doesn't have a a great, out-of-the-box way to capture UTM parameters or any other marketing attribution data about leads.
So how are marketers and business owners who use Elementor supposed to collect this vital information on their leads?
In this article, we'll show you how to use Attributer to capture UTM parameters and other lead attribution information in Elementor Forms and send them to your CRM & other tools.
4 steps for capturing UTM parameters in Elementor Forms
Using Attributer to capture UTM parameters in Elementor Forms is easy. Here's how to do it in 4 easy steps:
1. Add UTM parameters to your ads
The first step towards tracking UTM parameters in your CRM is to add them to the various ads you have running.
Depending on your marketing mix, this could mean adding them to ads you are running on social networks like Facebook, LinkedIn, Instagram and Twitter, or it could mean adding them to ads you're running on search engines like Google and Bing.
It's even a good idea to use them on bespoke campaigns you might be doing occassionally, such as advertisements in trade publications, email campaigns, newsletter sponships, etc.
2. Add hidden fields to your forms
Once you've got the UTM paramateres added to your adds, the next step is place hidden fields in your lead capture forms (I.e. the forms you use to collect information from site visitors).
If you're not familiar with hidden fields, they are essentially fields that exist on your form but are not visible to end-users. They allow tools like Attributer to write information into them without visitors ever seeing it.
Adding Hidden Fields to Elementor Forms is super easy. In the Elementor builder, you can simply click on a form to open the form editor and then click the 'Add Item' to add a new form field. Then, when you click that form field you simply need to select 'Hidden' from the 'Type' dropdown.
Here are the hidden fields you need to add to your forms:
• Channel
• Channel Drilldown 1
• Channel Drilldown 2
• Channel Drilldown 3
• Landing Page
• Landing Page Group
3. Attributer automatically completes the hidden fields with UTM data
Now that you've got everything setup, Attributer will monitor for visitors that arrive at your site with UTM parameters and write those parameters into the hidden fields when the visitor submits a form.
To illustrate how this works, let's imagine you're a marketer at Salesforce.
A user does a google search for 'Best CRM software', clicks on your Google Ad and after learning more about your product they complete a form to request a demo.
Depending on what you put in your UTM parameters, Attributer would complete the hidden fields with something like this:
Channel = Paid Search
Channel Drilldown 1 = Google
Channel Drilldown 2 = CRM campaign
Channel Drilldown 3 = Best CRM Ad
On top of this, Attributer would also track what page they arrived on and pass it through in the hidden fields. Continuing the Salesforce example from above, it could be:
Landing Page = www.salesforce.com/products/crm
Landing Page Group = Products
4. UTM parameters are captured by Elementor Forms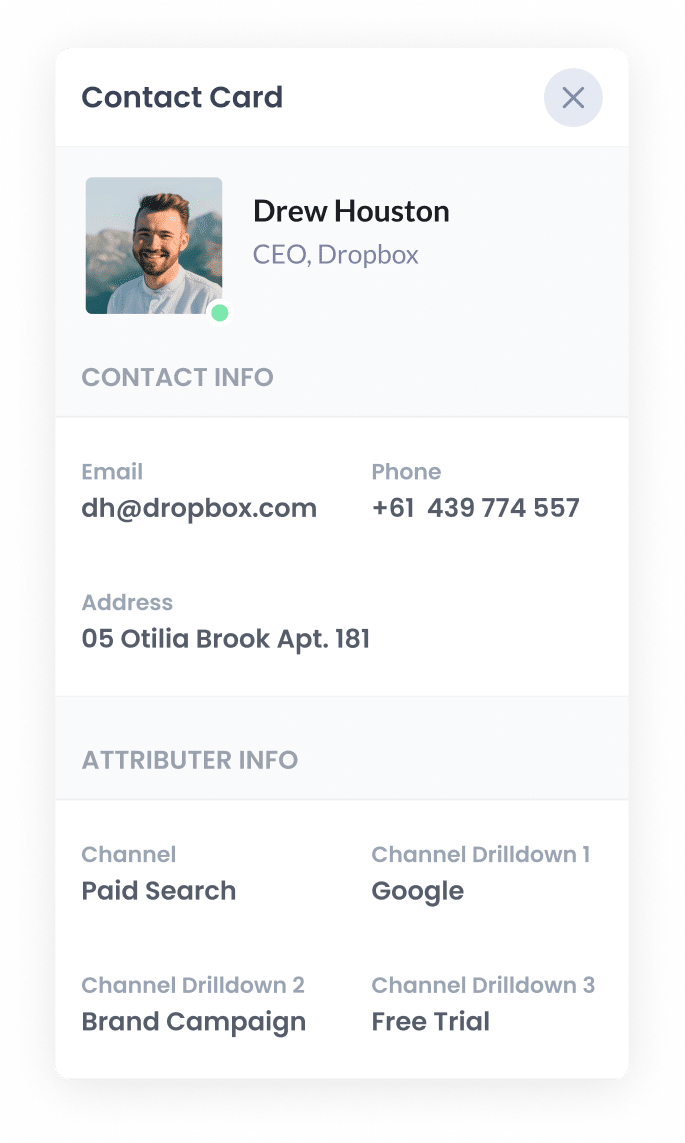 Finally, when the submits one of your Elementor forms the UTM parameters and other attribution information are captured along with the lead's name, email, phone number and other information provided on the form.
Once the data is in Elementor, you can see it in the Submissions section of your WordPress Admin area as well as in the new form submission emails that you'll receive.
Furthermore, you can use Elementor's native integrations to send it to your CRM or email marketing tool, or use the Zapier Add On to send it to 2,000+ other tools (including Google Sheets, Google Calendar, etc).
Put simply, Attributer is a nifty piece of code that you place on your website.
When a visitor arrives on your website it looks at technical data such as UTM parameters, HTTP referrer information, device, etc. to ascertain where that particular visitor came from.
Based on this, it then categorizes each visit into a series of channels (Paid Search, Organic Search, Paid Social, Referral, etc) and stores this information in the visitor's browser as a cookie.
Then when that visitor completes an Elementor form on your website, Attributer writes the UTM parameters and other information into the hidden fields in your form and they captured along with the lead's name, email, phone, etc.
Attributer was built by a marketing consultant who needed a tool to identify the source of all leads & customers in his client's CRM in order to run accurate reports on his work.
He originally built it just for his clients to use, but after a little while turned it into a product that others could access.
Fast forward to day and Attributer is used on hundreds of websites and captures UTM parameters and other information on over 1.7 million leads per month.
Why using Attributer is better than capturing raw UTM parameters
There are other methods available for capturing UTM parameters in Elementor Forms, so why choose Attributer?
Simple: Attributer doesn't only capture raw UTM parameters. It does a whole lot more:
Not only does Attributer help you capture UTM parameters in Elementor forms, but it also information on visitors who arrive at your site through channels where there are no UTM parameters present (i.e. Organic Social, Organic Search, Direct, Referral, etc.).
This means that you get marketing attribution information on ALL of your leads, not just the one's that came from your paid ad campaigns.
This is important, because if you're getting more leads from your SEO efforts than your Facebook Ads you're going to want to adjust your spend accordingly.
2. Remembers the data across pageviews & sessions
Elementor Forms does have an option where you can add some hidden fields to a form and it will pull UTM data from the URL and write it into those hidden fields.
The problem with this approach is that the UTM parameters MUST be present on the page the form is completed on.
So if you're doing Google Ads and sending visitors to your homepage and then they need to click through to another page to complete a form (I.e. Your Contact Us page, or your Request a Demo page) then those UTM parameters will be lost from the URL and won't be captured in your forms.
Attributer works differently though. It stores the UTM parameters in a cookie in the visitor's browser and then writes them into hidden fields regardless of where the form is completed.
This ultimately means that you'll get more accurate data and be able to properly understand the ROI of your campaigns.
One of the problems with capturing raw UTM parameters is that you inevitably end up with loads of messy data.
As an example, imagine some of your Twitter campaigns are tagged with UTM_Source=Twitter.com (capital T), others with UTM_Source=twitter (lowercase, no domain), and others with UTM_Source=tw.
When you pass these into your CRM and try run a report, you'll see these as 3 different sources.
Attributer helps with this too. It takes into account the possibility of capitalization and other inconsistencies, and would categorize these leads as Paid Social regardless.
3. Captures landing page data as well
Ever wanted to know how many leads and customers come from your blog? Or those in-depth content pieces you spent hours writing?
Attributer not only captures UTM parameters and other channel data, but it also captures the landing page (I.e. salesforce.com/blog/10-best-crm-tools) and the landing page category (I.e. /blog).
This means that you can see how well certain sections of your website are performing (I.e. your blog) in terms of generating leads, customers & revenue.
And because it captures both the landing page and the landing page group, you can look at how content groups as a whole are performing (I.e. your blog) as well as how individual pages or pieces of content are performing (I.e. individual blog posts).
4 example reports you can run when you capture UTM parameters in Elementor forms
If you are using Attributer to capture UTM parameters in Elementor forms, then you should be able to send the data into your CRM or a spreadsheet and runs reports similar to the following:
The report above shows the number of leads you get each month broken down by the channel they came from (I.e. Organic Search, Paid Search, Paid Social, etc)
This report is only possible because Attributer captures the source of all your leads, not just those from paid ad campaigns with UTM parameters behind them.
It can help you see which channels are driving the most leads and where you should be investing further.
As an example, if most of your leads are coming form Organic Search but you're putting most of your marketing budget into Paid Search ads, then it's likely your missing a big opportunity for growth.
2. Leads by Facebook Ads Network
Facebook Ads gives you the ability to run ads across a number of networks (Facebook, Instagram, Messenger, etc) and this report shows which of those is generating the most leads.
This can help you better assign budgets to networks, as if you can see that you are getting more leads from Instagram than Facebook (for instance) then you can put more of your budget into Instagram to generate more leads.
3. Customers by Google Ads campaign
This report shows you how many customers you have gotten from your Google Ads each month, broken down by the campaign they came from.
This can help you truly understand which of your Google Ads campaigns are working and which one's aren't, and allows you to spend more time and money optimising the campaigns that are working to drive more customers for your business.
If you put the keyword in the UTM parameters behind your Google Ads (which is easy to do using tracking templates), then you can capture the keyword each of your leads are coming from.
With this insight, you can increase bids on the ones that are driving real revenue for your business, and ultimately get more customers and revenue from them.
If you're looking to capture UTM parameters in your Elementor forms, then Attributer is a great tool that ensures you have accurate information that can help you make informed decisions on how to grow your business.
Interested in trying it out? Start with a free 14 day trial today!
Start your 14-day free trial of Attributer today!
Aaron Beashel is the founder of Attributer and has over 15 years of experience in marketing & analytics. He is a recognized expert in the subject and has written articles for leading websites such as Hubspot, Zapier, Search Engine Journal, Buffer, Unbounce & more. Learn more about Aaron here.