The easiest way to get Google Analytics Data into ARForms
Attributer is the simplest way to integrate Google Analytics data, such as channel and landing pages, into ARForms so you can track where your leads and customers are coming from.
Are you integrating Google Analytics data into your lead capture forms? If not, how do you know which marketing campaigns and channels are actually generating leads, customers, and revenue?
Google Analytics is a great tool for telling you where your website visitors are coming from, but it can't tell you which of those visitors are actually becoming paying customers.
Although, there is an easy solution.
By integrating Google Analytics data - such as channel and landing page information- into ARForms, you can run reports that show you exactly what channels and campaigns are driving leads, customers and revenue.
In this article, we'll show you how to use Attributer to integrate Google Analytics data into ARForms.
Attributer is a small piece of code that you place on your website.
When a visitor lands on your site, it looks at some technical elements to understand where the visitor came from (the same things analytics software like Google Analytics looks at).
It then categorizes the visitor into a series of channels (like paid search, paid social, organic search, etc. The same categories you see in Google Analytics) and stores the information in a cookie in the visitor's browser.
Then, when that visitor submits a lead form, it writes the Google Analytics data into hidden fields which you add to your form and the data is captured and sent with the completed ARForm alongside the lead's name, email, phone, etc.
Attributer was originally created by a marketing consultant who needed a way to track whether the campaigns they were running were actually generating customers and revenue for his clients.
"I originally built it just for my clients to make it easier for me to work with them, but then quickly realized it might be something that other marketers or business owners could use," said Aaron Beashel, founder of Attributer.
Fast forward several years and Attributer is used on thousands of websites, passing Google Analytics data through on more than 7 million leads per month.
4 steps for integrating Google Analytics data into ARForms
Using Attributer to capture UTM parameters in ARForms is easy. Here's how to do it in 4 simple steps:
1. Add hidden fields to your forms
The first step is to add Hidden Fields to your lead capture forms. These hidden fields are:
Channel
Channel Drilldown 1
Channel Drildown 2
Channel Drilldown 3
Landing Page
Landing Page Group
Most form-building tools (like Gravity Forms, WPForms or Jotform) make it easy to add hidden fields to your forms. All you need to do is drag and drop them in!
2. Attributer automatically completes the hidden fields with Google Analytics data
Attributer is a tool that monitors the activities of visitors on your website and records Google Analytics-style data into concealed fields within your form when a visitor completes it.
For instance, let's say I am a marketer at a real estate firm, and a visitor arrives at my website through my paid search brand campaigns. In this scenario, the hidden fields would be populated as follows, depending on the UTM parameters incorporated in my advertisements:
Channel: Paid Search
Channel Drilldown 1: Google
Channel Drilldown 2: Brand Campaign
Channel Drilldown 3: Dropbox
In addition to the Channel information, Attributer also captures the visitor's initial landing page (e.g., realestate.com/features/sell-house) and the corresponding landing page group (e.g., Features).
3. Google Analytics data is passed into ARForms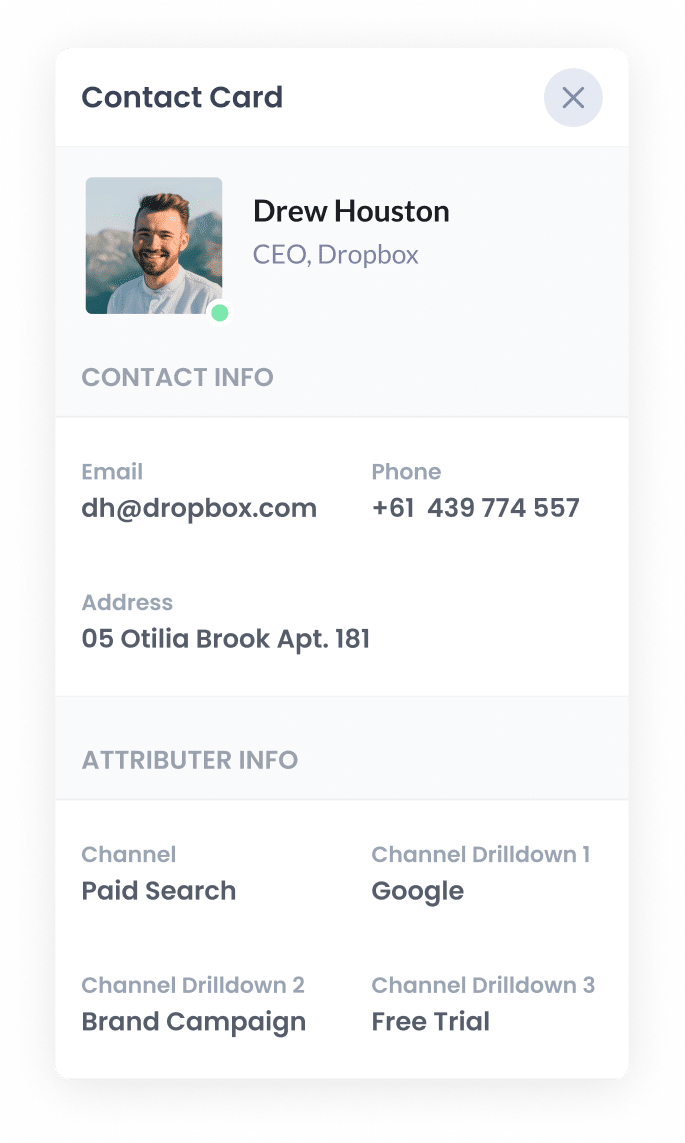 Once a visitor submits a form on your website, the form tool captures not only the lead's name, email, phone, and other relevant details but also retrieves all the Google Analytics data that Attributer has stored in the hidden fields.
Subsequently, this collected information can be seamlessly transferred to ARForms for further processing or analysis.
4. Run reports to know what channels are driving leads, customers and revenue
After the Google Analytics data is transferred to ARForms, you can start generating comprehensive reports. You have two options: utilize ARForms built-in reporting tools or establish a connection with a third-party business intelligence (BI) tool like Tableau for more sophisticated reporting capabilities.
By running these reports, you can extract valuable insights such as identifying the top-performing channels in terms of lead generation, evaluating the conversion rates to opportunities for each channel, determining the number of successfully closed deals attributed to each channel, and uncovering many other relevant metrics and analytics.
What data gets passed into ARForms
There are two key elements to understanding how you're getting leads and customers:
Channel - How did the lead or customer get to your website? Usually one of Organic Search, Paid Search, Paid Social, Referral, etc.
Landing Page - What content on your site attracted them there? It could be your Features pages, your blog, your eBooks, etc.
We built Attributer to provide data that answers those questions.
1. Marketing Channel Data
Attributer automatically captures what channel your leads come from (I.e. Paid Search, Paid Social, Organic Search) as well as further detail on each channel (I.e. For Paid Search, it also captures the Campaign, Ad Group, Keyword, etc)
Attributer automatically captures the first page the lead sees on your site (I.e. dropbox.com/blog/best-file-storage-tools) as well as the category of the page (I.e. Blog).
This allows you to run reports that show how many leads and customers from a particular content piece (I.e. a specific blog post) as how many leads and customers you got from your blog as a whole.
4 example reports you can run when you integrate Google Analytics data into ARForms
Once you've integrated Google Analytics data into ARForms, you can start to run reports to understand how your various marketing campaigns and channels are performing.
To help you understand what's possible, we've include below some examples of our favourite reports to run to understand what's driving growth for your business:
It's likely that you receive leads from various channels such as Organic Search, Paid Search, and even Organic Social.
The above report provides a breakdown of the monthly lead count based on their respective channels of origin. It offers an overall perspective on which channels are driving leads for your business.
Why is this significant? It enables you to make informed decisions regarding your marketing efforts at a higher level. For instance, if the majority of your leads are coming from Organic Search, but you're allocating a substantial portion of your budget towards Paid Search, it may be prudent to reassess that expenditure.
By examining this data, you can strategically focus your marketing resources where they are most effective, optimizing your approach for optimal results.
2. Opportunities by Google Ads campaign
Do you have multiple Google Ads campaigns running?
If that's the case, the chart above offers valuable insights into their respective performances. It illustrates the number of Sales Opportunities generated each month, categorized by the specific Google Ads campaign they originated from.
This chart aids in understanding which campaigns are truly effective in generating Sales Opportunities - not just traffic. Consequently, it assists in making informed decisions regarding the allocation of your budget and optimization efforts. By identifying the campaigns that yield the best results, you can prioritize your resources accordingly for better results.
3. Customers by Facebook Ads Network
Are you running Facebook Ads to generate leads?
If that's the case, your ads are probably being displayed across the diverse social media networks owned by Facebook, such as Facebook itself, Instagram, Messenger, and WhatsApp.
In such a scenario, the graph above, which shows the number of customers acquired from your ads on each network, can provide a lot of value.
This graph serves as a useful tool in determining the network on which your ads perform most effectively. Consequently, it guides you in directing your efforts to the appropriate channels, ensuring optimal results for your marketing efforts.
4. Revenue from Organic Search by search engine
Are you implementing SEO strategies to enhance the growth of your monthly lead count?
If that's the case, the report above offers valuable insights into the actual revenue generated from those SEO efforts.
Examining this report by the search engine from which the leads originated can be particularly insightful. Additionally, comparing the revenue generated from SEO with revenue from other channels (such as Paid Search, Organic Social, etc.) can provide valuable perspective. This allows you to gauge the significance of Organic Search in driving the growth of your business.
By analyzing these metrics, you gain a better understanding of the effectiveness of your SEO efforts and the role Organic Search plays in your business's overall success.
If you're wanting to get Google Analytics data into ARForms, then Attributer is a simple, reliable solution backed by a team of analytics professionals who can help support you with the implementation.
Best of all, it's free to get started, so start your free trial today.
Start your 14-day free trial of Attributer today!
Aaron Beashel is the founder of Attributer and has over 15 years of experience in marketing & analytics. He is a recognized expert in the subject and has written articles for leading websites such as Hubspot, Zapier, Search Engine Journal, Buffer, Unbounce & more. Learn more about Aaron here.