Easiest way to capture Google Analytics data in MetForm
Learn how you can capture data from Google Analytics, such as Channel and Landing Pages, in MetForm and send it to your CRM so you can track where your leads and customers are coming from.
Tools like Google Analytics are great for understanding how many visitors come to your website, and if you setup Goals properly it can tell you which channels converted to leads.
But do you know which marketing channels and campaigns are converting to deals, customers and revenue?
By capturing Google Analytics data in MetForm and passing it through to your CRM, you can run reports that show you what channels and campaigns are working and which one's aren't, so you can make better decisions about how you spend your marketing dollars and time.
Attributer is a piece of code that you place on your website.
When a visitor lands on your site, Attributer looks at some technical information about the visitor (similar to what Google Analytics looks at) and uses it to determine where the visitor originated from.
Attributer then categorizes the visitor into a standardized set of marketing channels. These are the same channels you see in Google Analytics, such as Organic Search, Paid Social, and Paid Search.
Next, Attributer stores the categorized data as a cookie in the visitor's browser. Then when the visitor submits a MetForm form on your site, Attributer passes that channel and landing page information into a series of hidden fields you add to your forms (don't worry, we'll show you how to do this later in this article).
From here, you can pass the data into nearly anything that MetForm integrates with, such as your CRM, Email Marketing Tool, Analytics Tools, etc.
4 steps for capturing Google Analytics data in MetForm
Using Attributer to capture Google Analytics data in MetForm is easy. Here's how to do it in 4 quick steps:
1. Add hidden fields to your forms
First up, you need to add some Hidden Fields to your lead capture forms. These hidden fields are:
Channel
Channel Drilldown 1
Channel Drildown 2
Channel Drilldown 3
Landing Page
Landing Page Group
MetForm makes it easy to add hidden fields to your forms (instructions here). There is a field type called 'Hidden' which you can drag in, or you can drag in another field type (such as single line text) and make it a hidden field by selecting the 'Hidden' tickbox.
2. Attributer automatically completes the hidden fields with Google Analytics data
When a visitor completes a lead form on your site, Attributer automatically populates the hidden fields you added in Step 1 with Google Analytics data.
To show how this works, imagine you're a marketer for a florist and a visitor lands on your website via a brand campaign on Paid Search or PPC. Attributer would complete the hidden fields as follows:
Channel: Paid Search
Channel Drilldown 1: Google
Channel Drilldown 2: Brand Campaign
Channel Drilldown 3: Flowers
Attributer would also capture the first landing page (i.e. www.florist.com/features/flowers) and landing page group (i.e. Features) of the visitor, in addition to channel data.
3. Google Analytics data is captured by MetForm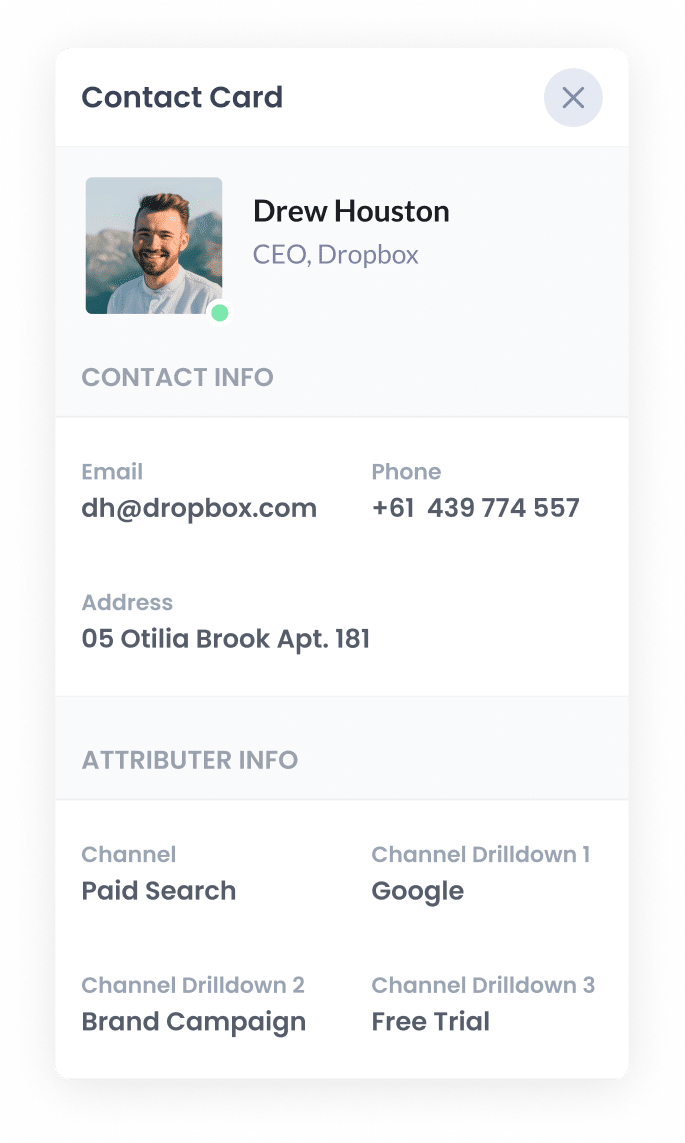 When a visitor submits the lead form the Google Analytics data passed into the hidden fields is captured by MetForm and stored with the other information the visitor entered (including their name, email address, phone number, etc).
4. Send the data to your CRM, email marketing tool, and more
Finally, you can use the native integrations in MetForm (or 3rd party tools like Zapier) to send the Google Analytics data into your CRM, email marketing tool, billing system and more.
With the data provided by Attributer, you can see which of your channels are driving the most leads, the number of Closed/Won deals coming from each channel, the conversion rate to opportunity, and other important metrics.
What data gets captured in MetForm
At Attributer, we believe there are essentially 2 key elements to attribution:
Channel - How did the visitor get to your website? Usually from Organic Search, Paid Search, Paid Social, Referral, etc.
Landing Page - What content on your site attracted them there? It could be your Features pages, your blog, your eBooks, etc.
As a result of this, we built Attributor so that it collects all the information you need to answer the above questions.
1. Marketing Channel Data
Attributer facilitates the automatic capture of marketing channel data. This functionality enables you to effortlessly identify the channels that are driving lead generation, including Paid Search, Organic Search, Paid Social, and more. Attributer also provides additional details specific to each marketing channel. For example, when it comes to Paid Search, it captures essential information such as Ad Group, Keyword, Campaign, and more. Having this information helps you gain deeper insights into the performance and effectiveness of your various marketing channels.
Attributer automatically captures the lead's first page visit (e.g., dropbox.com/blog/best-file-storage-tools) and its category (e.g., Blog). This allows you to analyze the collective impact of your blog and drill down into the leads and customers generated by each individual blog post.
4 example reports you can run when you capture Google Analytics data in MetForm
By capturing Google Analytics data within MetForm and integrating it with your CRM or spreadsheet, you gain the ability to generate comprehensive reports that provide insights into the performance of your diverse marketing initiatives.
To assist you in initiating this process, we have outlined below some of our recommended reports to run:
It's likely that you receive visitors and leads from various sources such as Organic Search, Paid Search, Organic Social, and more.
The report above provides a detailed analysis of the monthly lead count, categorized by the channels through which they originated. It offers a comprehensive overview of the most successful channels.
Understanding this information can prove immensely valuable when determining where to allocate your resources. For instance, if the majority of your leads are generated through Organic Search while you're investing heavily in Paid Search, it might be worth reconsidering your strategy.
2. Opportunities by Google Ads campaign
If your business is similar to most others, it's likely that you're running multiple campaigns in Google Ads and have a keen interest in assessing their performance.
Fortunately, the chart above can provide a detailed breakdown of the number of opportunities generated each month, categorized by the specific Google Ads campaign they originated from.
This chart serves as a valuable tool in determining the campaigns that yield high-quality leads, subsequently converting into genuine Opportunities for your sales team. Consider it a helpful shortcut that aids in making informed decisions about resource allocation for optimal outcomes.
3. Customers by Facebook Ads Network
If you're running Facebook ads to promote your business, it's highly likely that they are being displayed across various social media networks within Facebook's family, including Facebook itself, Instagram, Messenger, and Whatsapp.
The chart above can provide valuable assistance. It provides a detailed breakdown of the number of customers acquired from each network through your ads.
This insightful information will provide you with valuable insights into the performance of each network for your business, enabling you to strategically allocate your budget to the most impactful channels.
4. Revenue from Organic Search by search engine
If you're investing in SEO to expand your business, this chart will prove to be valuable. It provides insights into the revenue generated from your SEO efforts.
Now, here's the exciting aspect: you have the option to analyze this report based on the search engine that drove those leads (as depicted above). Additionally, you can compare the revenue from SEO with other channels such as Paid Search, Organic Social, and more. This comparison allows you to gauge the significance of Organic Search in fostering your business's growth.
If you're looking for a solution to capture Google Analytics data within MetForm and seamlessly transfer it to your CRM, Email marketing tool, and other platforms, Attributer is the ideal tool for you.
Setting up Attributer is a straightforward process, and once it's working, you can leverage its capabilities to generate comprehensive reports and create informative dashboards in your sales and marketing tools, such as CRM systems. These reports and dashboards offer valuable insights into the performance of your advertising campaigns and the progress of your SEO initiatives.
The best part is that getting started with Attributer won't cost you anything. Take advantage of our free trial today!
Start your 14-day free trial of Attributer today!
Aaron Beashel is the founder of Attributer and has over 15 years of experience in marketing & analytics. He is a recognized expert in the subject and has written articles for leading websites such as Hubspot, Zapier, Search Engine Journal, Buffer, Unbounce & more. Learn more about Aaron here.